La Liga Spotlight:
7 Players to Watch on Football Index
It's time for a Spotlight series, something where I will be taking a look at some players which could and should shine for their clubs.
Obviously, I won't be doing an article on Lionel Messi, as the world doesn't need to know about him.
Nor will I be tipping players at specific prices. 
Instead, I will look towards players that are on form, or have the potential to transfer to a bigger club.
I love doing these posts and looking back in the past. We start with La Liga, where I have chosen 7 prospects, from various positions and clubs.
There's a few names in there which are already starting to set the scene alight, but hence this being a spotlight series!
Joao Felix – Atletico Madrid
You may be in dismay to see a player that has just transferred for £116 million to be on the spotlight list.
However, imagine a 20 year old transferring for this amount of money and NOT being the centre of attention.
Atletico Madrid moved quickly to sign Felix, after losing their talisman in Griezmann.
However, he hasn't been a sensation since signing for Atletico.
He's scored just 2 goals and assisted once in 14 games.
It's hard to put the final verdict on Joao Felix, who won't be anywhere near the finished product at 20 years old.
He did end 2019 by picking up the Under 21 Golden Boy Award.
This was due to his form for Benfica, where he scored 18 goals before his transfer to Spain.
There's probably something wrong with football if a £100 million plus player isn't the golden boy of the year!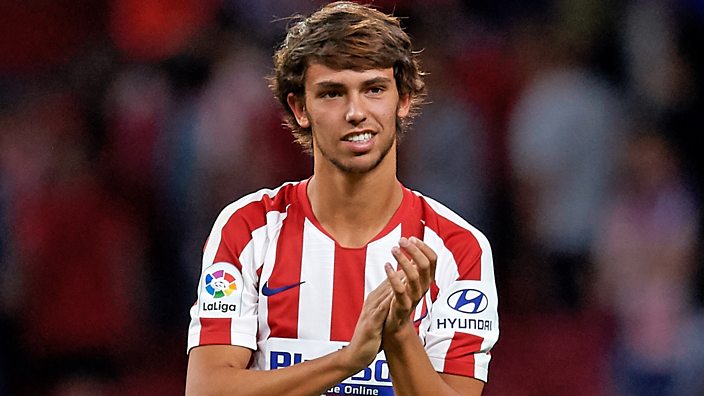 Angel Correa – Atletico Madrid
Since Antoine Griezmann left Atletico Madrid, the fans have been crying out for a new star to love.
The problem is, his loyalty to Madrid.
It's been rumoured that he's very interested in AC Milan, with some journalists stating that he's got a verbal agreement to join them (once they can afford his release clause).
This agreement fell through in the Summer of 2019, which has led to Correa slowly becoming an integral part of Simeone's plans.
He's Assisted 5 and scored twice, in 13 matches.
If he's going to attempt to fill the boots left by Griezmann, he needs to improve his goalscoring.
He is exciting to watch though, which is why we've included him in the spotlight series.
Martin Odegaard – Parent Club: Real Madrid
Real Madrid scouts alerted them to Martin Odegaard almost 5 years ago.
It's been a long road for Martin, who must have thought multiple times that he just wasn't going to succeed in Madrid.
Fast forward to January 2020 and Real Madrid are trying to cancel the loan deal with Real Sociedad. 
They want him back.
In fact, they have offered Real Sociedad £4 million to cancel the loan deal 5 months early, including loaning them Takefusa Kubo for the foreseeable future.
He has racked up 4 goals and 5 assists, which has the potential to increase with Odegaard supplying Benzema, Jovic etc!
It's safe to say that Real Madrid have had a much better La Liga campaign in 19/20, sat just 2 points behind Barcelona.
What makes things a little more complicated is that Odegaard has been instrumental to Sociedad's campaign also, they sit just 1 point out of the Champions League positions.
It's his time to prove himself.
Unai Nunez: Atletico Bilbao
I'm a little surprised to hear that West Ham are linked with Nunez of Atletico Bilbao.
He's a ball playing centre back, who seems to be following the exact same development of Aymeric Laporte.
He has a release clause of £25 million, which is active until 2022.
He's a hard worker and has put in some good performances for Bilbao.
Manchester City and Bayern Munich scouts have also been spotted watching him, with Bayern Munich looking for a natural Javi Martinez replacement.
I would be shocked to see him transfer to West Ham, but they need to give David Moyes a significant transfer budget to help them reach their goals.
Mikel Oyarzabal
Oyarzabal seems to have alerted the interest of Pep Guardiola with his terrific performances. 
He's scored 7 goals and notched 4 assists in 18 matches whilst playing for Real Sociedad.
It's apparantly left Pep purring, especially with the possibility that Leroy Sane will be leaving for Bayern Munich shortly.
He has an active release clause of £60 million, which is very affordable in today's football climate. 
£60 million wouldn't deter Pep, who would be keen to get the Spaniard aboard.
Whilst the 2020 Premier League seems all but over, Manchester City need to add depth to their ranks.
Mikel Oyarzabal could be in for a career defining summer in 2020!
Diego Lainez
Real Betis made a huge gamble in the Summer of 2019, spending £15 million on the 18 year old Diego Lainez.
There are numerous reports that he's set to be loaned out, due to a lack of gametime in La Liga.
Nabil Fekir's arrival has somewhat diluted the chances for Lainez, who is slowly reverting into the shadows.
It brings me flashbacks to Martin Odegaard (also in this series) who joined Real Madrid far too soon, before being labelled a flop & spending the next 4 years on loan.
There are rumours that Club America are willing to loan Lainez, but it's publicised that he doesn't want to return and be seen as a failure.
You can't fault his determination. It's not worked out yet, but if his next loan move is a positive one, he could well be one to watch.
Ansu Fati – FC Barcelona
We will be ending on another potential superstar, who's already been uncovered.
Ansu Fati is just 16 years old, but he was launched into the limelight with a majestic performance against Valencia.
He became the youngest player to score and assist in the same game.
Ansu Fati was originally produced by Sevilla's Academy, but his impressive goalscoring record at such a young age alerted the big guns in Spain.
His progress looked to stop in 2015, when he suffered a horrendous leg break. He managed to recover and re-found his golden form, scoring twice against Chelsea in the Youth League.
He's scored 2 goals and assisted once in La Liga in 10 appearances. 
His performances have satisfied the fans though, due to his immense work rate and flair on the ball.
He's one for the future, but he's risen at a time where he will undoubtedly receive Lionel Messi Successor comparisons.
Credit for these images to: